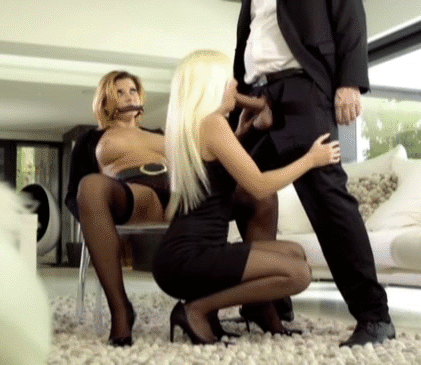 I was driving with two friends up from west-central Wisconsin to the Boundary Waters Canoe Area Wilderness, a distance of about 260 miles. My two friends had just met, because one, Dick, was from Canada. Both were tall, about 6′ 2″. We were all in our 30s.
I don't recall how the subject came up, but Jim announced that he and his wife, Pat, had an Open Marriage. I hadn't read the book, but it seemed to mean spouses having other sex partners. We asked for details, but he did not confide further. I wondered if Pat would open her legs for me. Jim did imply that Pat took some pride in his sexual conquests, and telling her the explicit details as foreplay enlivened their sex.
Learning around the campfire that Jim had been in Africa for the Peace Corps, Dick kept asking him if he'd had sex with any native black women. Jim seemed embarrassed and refused to say.
Then, I remembered a meeting for coffee at MacDonald's during which Jim inquired about my wife's sexuality. Did she often have orgasms? Was it clear when she came? I said that Jenny is a screamer, but not always. Jim said that Pat is quite obvious when she has an orgasm. They used marijuana to relax her and reduce her inhibitions.
Jim and I both lived in rural parts of the county with electric service from the county electric cooperative. It happened a few years later that Pat asked me to drive her to a meeting of county electric cooperatives in La Crosse to speak and for us as members to vote on a proposed nuclear power plant. She could not drive herself, because she had a six-week-old baby and was breast-feeding. Jim was teaching at the college that day. I agreed.
Pat had light brown short hair, a round, pleasant face and wore glasses. Her weight was good for her height, about 5′ 4″. I had not seen her dressed to show her figure much, but she had good legs and about B-cup breasts.
She drove to my house, but with a girl of 12-13, who sat in my passenger seat. Pat sat in the back. I had expected her to wear a nursing bra, which would expose only the breast in use, or at least, a blouse that buttoned down the front for discretion. I was amazed that she wore a pullover top and no bra! This required her to bare both breasts to nurse. Whenever I glanced back to change lanes or looked in the rear-view mirror, I saw one bare breast swollen with milk and looking quite sensual, even erotic. Was Pat enjoying the increased size of her breasts and accidentally on purpose showing them off to me? Was the girl our chaperone? I became interested in the rest of her body concealed by slacks.
Pat gave her baby to the girl to mind while we attended the meeting.
I said, "I couldn't help noticing how lovely and sensual your breasts look!"
"Thank you," she replied.
"Your baby is fortunate. I was bottle-fed, had a reaction to the formula, and had to be returned to the hospital for an adjustment to the formula."
"Yes, some babies don't tolerate cow's milk well."
"How does it feel to nurse? Is it pleasurable?"
"It is satisfying to feed naturally. It is pleasurable. When my first-born grew teeth, he sometimes chewed my nipples, which wasn't pleasant."
"Jim said that you have an open marriage."
"Oh, he did? What else did he say?"
"He implied that he had made some sexual conquests and that you were rather proud of his prowess. He said nothing about your adventures."
"There is nothing to say. I guess I'm not sexy."
"I haven't seen you dressed to look sexy, which made it such a surprise to see you look so sexy today."
"I was just nursing."
"I expected you to wear a nursing bra or a blouse that buttoned in front so that the breast not in use would be covered. You may have felt strictly maternal, but you looked very sensual!"
"Really? I guess I didn't expect that you would see me in the back seat."
"I guess you didn't mean to look erotic, then, and weren't excited to think that I might see your lovely breasts bare."
"Maybe the thought was in the back of my mind. I don't consider myself to be sexy and don't try."
"I hope you enjoy looking and feeling sexy today!"
"Thanks, I do."
"You brought a chaperone, so you can flirt safely, if you want."
Pat did not reply, except with an enigmatic smile.
After the meeting and before Pat got her baby from the girl, she asked,
"What would you do, if we were alone in your car?"
"I'd like to drive to a secluded spot, park and find out how sexy you want to be."
She looked at me but made no reply. Again, she nursed her baby, now knowing that I was glimpsing her bare breasts. When we got back to her car, she handed her baby to the girl, who got into her car. Pat came close to me and thanked me for driving.
"Jim won't be home yet for about two hours. If you want to visit me, wait about 10-15 minutes while I drive the sitter to her house and freshen up. I'm flattered by your attention, but I'm not sure how far I'll go."
I smiled, "Thank you for the invitation! I hope to get to know you better!"
Our garage was about 100′ from the cottage, Düzce Escort and the car parked in front of the garage could not be seen from the house, so my wife would not know that we had returned. I waited in my Mustang growing a hardon.
Their house was about a mile outside of a small town. No neighbors would be watching. They had built it themselves, and it rather sprawled with additions. I knocked on the front door. Pat opened it. She had changed into a simple white nightgown. The neckline was low enough to show some cleavage; she was high-breasted. At age 36, her breasts were firm and still swollen with milk. Her very erect nipples, wet with milk, wet and poked forth the fabric, which was thin enough to show shadows of her dark aureoles. The hem of her gown was several inches above her knees.
I held a hand down in front to cover my erection, which only drew her attention. She looked quizzically at me, and when I uncovered, blushed prettily. I reached for her, ran my hands up and down her bare arms, causing her to shiver visibly. I pulled her against me so she could feel my cock against her belly. I kissed her shoulder, neck and lips.
She said, "Let's slow down! I'm nervous! Should we have a glass of wine?"
"Yes."
"Do you smoke marijuana? I think I need some now."
"I don't think I need a drug, just you!"
Pat served us each a glass of refreshingly chilled white wine. Then she lit up, taking a long drag. She began to relax against the back of the couch. When her gown rode up her shapely thighs, she did not do what women so often, maddeningly do, tug the hem down. I moved against her, put my right arm around her and caressed her right arm. She had another drink of wine and another drag of weed. I placed my left hand on her left knee. She did not flinch, so I began caressing my way up her white, soft, smooth thigh. My cock was as hard as it could be.
At first, Pat seemed to pretend not to notice what I was doing. Again, I kissed her bare shoulder and neck. She turned to me, and we kissed more passionately, our tongues touching. I brushed my left hand across her breasts. Goosebumps appeared on her arms.
"My nipples are leaking. I didn't have a chance to use the breast pump."
"Good, because I want to taste your milk! I want to suck your nipples!"
"You want to know what you missed, but it's different now."
"Yes! We're the same age, and aren't related, so it will be extremely erotic!"
I grasped the straps of her gown. She sighed and hunched her shoulders to help me strip her naked to the waist. I never saw more luscious, appetizing fruit!
"Lovely!"
She beamed. I cupped her breasts, swollen from B-cup to C-cup. She gasped as I manhandled her now very sensitive tits. 'Don't squeeze the fruit, until it's yours!' I thought. Milk dribbled from her distended nipples. I licked it up.
"So sweet!"
I took her left nipple in my mouth and began to suck. She leaned her head back and closed her eyes, seemingly in ecstasy. The, she replaced my hand with hers and expertly squeezed her tit to squirt even more milk into my mouth.
"Isn't this more fun than a breast pump?"
"Oh, yes! More, please, and don't neglect this breast!"
"How does it feel, compared to nursing your baby?"
"Just as pleasurable, but erotic and exciting! Next time I have more milk than I need, will you help me out again?"
"I'd be too excited to stop at milking you! Doesn't Jim suck your breasts?"
"He tried it once but decided they were for our baby."
I devoted about 5 minutes to each tit. Her gown was well up her thighs now. I unzipped my shorts to release my straining cock and let it rub her thigh while I sucked her.
"You have lovely legs! You should wear shorts and short skirts!"
"Thank you! Jim said I can't expect men to make passes at me, if I don't show more of my body."
I stood and removed my shirt, shorts and undershorts. She gazed with some alarm.
"I don't know, Bob. I've never even let another man get this far with me. Actually, nobody even tried! Jim encourages me to excite another man and let him have sex with me. He said I'd be a much more exciting woman if I excited other men and was excited by them."
I pulled her to her feet and shucked her gown off. She covered with one hand her triangle of light brown curly hair. I grabbed her fine ass and embraced her to feel her tits against my chest and my cock press her belly.
"You have a lovely body! How sexy of you to be naked under your gown! It's a great privilege to see you like this and caress you! When is Jim due back?"
"Don't worry about Jim, and our son is visiting grandparents. Jim thought it might be exciting if I went on a trip with you. He said nursing would be a good chance for me to show off my enlarged breasts to you! Did he expect me to flaunt them in front of you? He said to go without a bra. I jokingly asked if he wanted me to wear a pullover that would expose both breasts, but he urged me, dared me, to do it."
I knelt at her feet, grabbed her buttocks again, nuzzled Düzce Escort Bayan her mound of love, and kissed her pussy. I inhaled the aroma of her sex. My tongue searched through to her outer labia. I licked up and down her slit and then licked deeper to touch and part her inner labia. As I thrust my tongue into her moistening cunt, she braced herself with her hands on my shoulders and moaned. I stood up and she sat back down on the couch.
"Does Jim want to know what we did, in detail?"
"I guess."
"Would he be excited to know that you sucked my cock?"
"I guess he would."
I gently pressed the back of her head forward and moved my cock to her lips.
"I think I need another puff!"
Pat re-lit the cigarette and took two long drags of it. Returning, she didn't cover her cunt this time. She tentatively kissed the head of my oozing cock and licked my precum from her lips. Then, she took the head into mouth. She was practiced enough to suck it and lick the underside at the same time. She looked up at me.
"How's that?"
"Very pleasurable and sexy!"
"Maybe I should stop there."
"Jim would be disappointed in you, and I will be extremely frustrated and disappointed!"
I pushed Pat onto her back and lay on top of her. I French-kissed and felt her up all over her lovely naked body. I gave her so sensitive tits extra attention. My cock poked between her thighs. She struggled some. I pinned her arms back and used my knees to force her thighs apart. My cock touched her entrance, but I needed one hand to direct it into her cunt. I removed my right hand. She put her left hand on my right shoulder, unsure whether to push me away or pull me into her. Her hesitation enabled me to penetrate her.
"Oh! It's really happening!"
I thrust halfway into her, and she moaned. With one more thrust, I possessed her.
"Oh-oh-oh-oh!"
"Jim said it is obvious when you have an orgasm!"
"What? Jim told you about me sexually?"
I lay back on her to savor our sexual union.
"We were having coffee and conversation in McDonald's. Jim wanted to know about Jenny's orgasms and told me about yours. I think he wanted to have sex with her. Do you remember when we visited? She had a headache and he insisted upon massaging her shoulders. He had a good view of her cleavage."
"Yes, Jim likes her big breasts. He told me he'd like to see them bare and get his hands on them. That's why we both enjoy my breasts now when they are enlarged."
I got up on my knees, grasped her swollen tits and began to fuck her slowly. She had surrendered completely, spreading her legs wide as she abandoned herself to sexual pleasure. I was so excited by my conquest that I tried to delay my orgasm. Pat clung to my back and wrapped her legs around me.
"Harder! Faster!"
"Say 'Fuck me harder, faster!'"
"Fuck me, harder, faster!" She kicked her heels against my ass.
I soon felt my balls churning. I crowed my conquest as I pumped my sperm into her belly. She had another loud orgasm. I collapsed onto her but retained possession.
"I haven't had enough of you yet!"
"Mmm, I haven't had enough, either!"
"Will Jim be proud that I stayed for a second helping of you?"
"I guess. I'll be very embarrassed to confess what I let you do to me!"
After about ten minutes, my cock swelled up to fill her cunt again. I rose and began to fuck her slowly.
"This time," she said, "take your time!"
I held her tits, squeezed one and began to serve myself.
"I want to milk you and fuck you!"
"Yes, milk me and fuck me! God, if Jim heard me now!"
"He'd take you to bed and have his turn with you!"
"Men, husbands can be so lewd!"
We French-kissed, and she tasted her milk on my lips and tongue. I ravished her for 10 to 15 minutes. Orgasms of varying intensity seemed to sweep in waves over her. Again, her excitement was intense as she heard my triumph and felt my cock erupting into her. We lay joined until our natural uncoupling.
"Pat, we've become a lot closer friends!"
"As intimate as we can get! I hope my breast-feeding will prevent you from impregnating me!"
"Oh, wow! I guess that's why you hesitated to give in. Because we are friends, it's still more intimate than sex with a stranger."
"Yes, but you were more friendly with Jim!"
"I should thank him for sharing you with me!"
"I wonder how Jim would react, if I told him that, when you took seconds of me, it felt more like making love. He might be jealous. What if he were just fantasizing and never expected me to let another man fuck me?"
"Did he envision us having sex and then never again?"
"I don't know. He said I'd be a more exciting woman if I realized that I could easily satisfy more than one man and enjoy twice as much sex. He said that the more I exercised my sexuality, the more sex I'd enjoy. I doubted I could excite other men or even want to try. It would be humiliating to try and fail. Now that you've had me, made your conquest, will you want me again? Will he Escort Düzce want me to "put out" as men say? After today, I wouldn't need much persuasion."
"You needn't worry that I'd offend you by not wanting you again!"
"Would you hand me the phone? I feel too languorous to get up just yet, and too full! Jim is supposed to be in his office awaiting some exciting news."
"Hello, Jim. I hope you weren't fantasizing about what you wanted me to do. No? Well, I've just had a date with Bob, and he's still here, saying that your wife is a very hot date! You were right that I have the power to arouse another man. When Bob saw my bare breasts, sensually swollen with my milk, he lusted for me! He wanted to get his hands and his mouth on them, and the rest of my body. Am I exciting you yet? Good! Do you want some details now, or later? Okay.
"Bob wanted me so much that when I opened the door to him, he already had a hardon for me! We have become intimate friends today. He says I look beautiful naked, and he has thoroughly explored my naked body with his eyes, and hands. He has probed me to my depths. Do you want to hear more, while Bob is here listening to me tell you how much he enjoyed me and how much I enjoyed what he did to me?
"I wore that flimsy thin white nightgown, with nothing on under it to make my body easily accessible to him. I was afraid that, if I put on a bra and panties, I might feel more inhibited. We drank wine, and I smoked a joint, since you told Bob it removes my inhibitions!
"Bob didn't need a drug; he was intoxicated with me. He felt me up my bare thighs, pushing the hem up and up to explore my legs, which says are beautiful! He stripped me naked to the waist to feed on my succulent breasts. When I felt his tongue lick the milk that had oozed from my nipples, it felt electric! When he claimed my breasts, sucked on a nipple and squeezed my milk into his mouth, it felt so erotic that I had an orgasm! I don't need to use the breast pump, because Bob milked me of my surplus. He enjoyed sucking my very erect nipples and being rewarded with my sweet milk, more than you apparently did.
"Do you want to hear more, or shall I save the best for when you come home? Just don't cum until you come home!"
Pat giggled. I was surprised by her talk, because she had always seemed shy and reticent.
"Next, he got up and stripped. His cock was very hard for me. He pulled me to my feet and stripped my gown off. Then, he knelt at my feet, grabbed my ass, and French-kissed my pussy! I was rather passive and unsure about committing adultery for the first time, so he did everything he could to seduce me into surrendering. He pushed me to sit back on the couch, pulled my legs over his shoulders, and ate my pussy! He licked and fingered me to my second orgasm!
"I returned his favor by sucking his cock. He says I'm a good cocksucker. I didn't suck him for long, because he was so eager to fuck me. I was becoming hesitant again. I'd had two orgasms, but it wasn't fair not to satisfy Bob. I re-lit what remained of the joint to buck up my courage. Again, Bob got me on my back. I resisted just enough to inflame his lust. He pinned my arms back, forced my thighs apart with his knees, and took me. Suffice it to say that I excited him so much that he would not be denied: he ravished me!
"Are you jealous now that another man knows how I look and feel naked, that he knows the scent of my sex and the taste of my pussy? He knows what I'm like when I cum, and he has even tasted my cum! He enjoyed fucking me so much that he took a second helping of me!
"Are you proud of me? Do you think I am a much more exciting woman now? Good, because listening to me has gotten Bob hard again, and I expect he will take me again. Now that I've experienced the joy of putting out, I don't feel like denying him. Are you stroking? Don't hurry home, Dear, unless you want to catch us in the act. I doubt Bob will stop until he cums in me again.
"No, the subject of condoms did not arise. What did arise I wanted bare inside me. I think that nursing protects me, but once he possessed me and began fucking me, I desperately wanted him to cum inside me! The slight risk that he might impregnate me only excited me more! Now, see what a slut you've created! You love me more? I love you, too."
I took the phone and hung it up. Pat lay, spreading her legs for me. As much as she boosted my cock, I had boosted her morale. She looked like she felt lovely and desirable. She raised her knees, and I mounted her, taking her with one thrust.
"Bob wants to find me lying here, naked with your sperm still in me. He wants to fuck me while my pussy is still full of your sperm! I never thought my husband could be so lewd!"
She was well lubricated, and because I was now drawing on my reserves, I fucked her for about 20 minutes. Finally, she kicked my ass with her heels and urged me to give it to her harder and faster.
"You're driving me crazy! Cum! Cum!"
I clutched her juicy tits until her extremely excited nipples sprayed us with her milk. I thought about Jim seeing his well-fucked wife, whom he would probably not be able to fuck 3 times in one day, and that urged the sperm out of my balls. I felt the exquisite coursing of my sperm through my cock into his wife. I hoped he would encourage her to keep putting out to me.