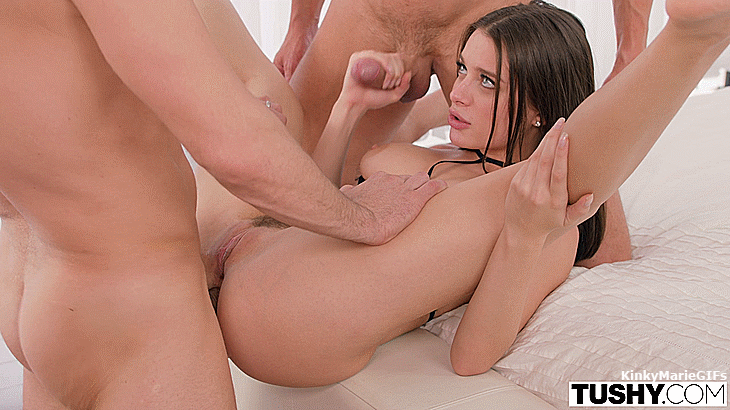 (The third part of a four-part story that continues from Weedy Panties, Dopey Hose. Pt. 02)
It can't be Badminton.
'I liked the photos of you in Eve's pink knickers and that little movie you made jerking your mess into them. I wasn't surprised when you pulled them over your head but I was amazed that you could pull them up around your cock, more so get into her tights. Modern material science knows no bounds,' Caprice said as soon as she came into my room.
I was shocked by her directness.
'Caprice is the cleaning girl I mentioned, she's also my mate and occasional tennis partner. A recap, she's enjoyed the text you sent me and you've previously ogled her socks, the transparent ones remember?'
'Sexiest socks I ever saw and now a Brucey bonus, love the look, tennis gear really does it for me, so saucy, can't help wondering about your naughty little tennis knickers beneath your pleated skirts. Made for sharing. With the audience that is and therefore usually very emotive in appearance, but it's the notion of what you're leaving in your gussets with all that sporting effort that does it for us blokes. I can imagine they get in a right mess.' I said feeling entitled to do so after Caprice's forthright introduction.
'You're not alone, Dad encourages it knowing the takings will rocket if I have a knock about with one of my sexy girlfriends on a Saturday afternoon, natch he sees us alright about it. Dad hates wet weekends.'
'Well, get your kit off, chop, chop,' Eve insisted and directed me to the foot of my bed.
My cock tightened in its cage as I stripped naked in front of the sexy women and Eve held a key aloft and asked Caprice,
'Will you do the honours?'
'My pleasure,' Caprice replied and set to carefully removing the sissy chastity device after which she weighed my balls with the palm of her hand and then took each between a finger and thumb and gently squeezed them staring in my eyes to check my reaction.
'They seem really full to me, bloated in fact.'
Her involvement was a stroke of luck for me as Eve would not see that I had swapped the size of the chastity ring and it was a relief to finally be rid of that blessed cage in the company of these two very horny and determined young women.
'Help me with the mattress would you, Love?'
The two of them dragged the mattress from my bed and arranged it on the floor at the foot of my bed in front of me. Eve fished about under the pillows and pulled out her stinky stuff she had left with me days before.
She handed me the footless tights and the white cotton socks and told me to put them on. It took some time to drag her ill-fitting tights into place. Her little cotton socks hardly covered my heels.
Eve came to stand before me and captured my gaze with her own. She held my tackle between both hands to check for herself. Then without breaking eye contact she tore open the gusset of the tights and manipulated my semi-stiff shaft and swollen balls through the opening.
'I see what you mean about his balls. Footless and crotchless, don't know if the fashion industry is onto that,' said Eve while she took two white nylon knee-hi socks from a duffel bag and handed one to Caprice.
'Stretch out your arms, stench-slut,' she demanded and Caprice followed her lead with my left hand, even repeating the words, stench-slut, as Eve bound my right hand to the post of the bed.
Eve took the pink G-string panties and held them to Caprice's nose.
'Delish, they smell of both of you, married in a gusset so to speak,' Caprice responded and Eve pulled the panties over my head with the gusset located on my mouth and nostrils. I peered pathetically through the leg holes hemmed with girly looped stitching.
'Gusseted for your mistresses' pleasure, sniff and lick now, big licks, big sniffs, and be noisy about it.'
'Thank you, Mistress Eve,' I said as I followed her instructions to the letter.
Caprice giggled at my devotion. The women removed their trainers and Caprice held one of hers against the panties on my face.
'Snort, shoe-sniffer,' she demanded.
'Thank you, Caprice.'
'Goddess Caprice to you, panty-boy,' Eve corrected me as she rolled a spliff and lit it. She approached me and reversing the spliff between her lips she pulled the pink panty gusset aside and poked the roach between my lips and with her angelic face close to mine dealt me a shotgun while fondling my ever-elongating shaft. She pulled the gusset back over my mouth and handed the spliff to Caprice.
My cock stood up like a flag pole that led Caprice to comment,
'Nice length, fabulous girth. We're going to put on a little lezzie show for you slave-boy, would you like that? I bet that cock of yours will.'
'Pretty-please, Goddess Caprice, pretty-please Mistress Eve.'
Eve hit play on her phone and Al Green's, 'I'm still in love with you', began to play. The women knelt on the mattress facing each other, sideways to me and began to caress each other's upper bodies and afford me glimpses of Kartal Escort their panties as they momentarily raised each other's tennis skirts. They frequently turned their wanton faces towards me to enjoy my predicament.
Each unbuttoned the other's blouse and one after the other each item was thrown towards me.
Similar sheer white sports bras veiled their titties but my attention was diverted towards their feet in sweaty, plain-weave, girly-styled white cotton socks, the sort with ruffled ankle cuffs. Their toes overhung each side of the bed and I wanted to kneel behind each of them and sniff, lick and chew on their pretty aromatic toes. How salty they must be after a whole afternoon with the rackets and how stinky after being trapped inside their trainers all that time.
'Oh Jesus, those sweaty, sexy, socks, Babes,' I uttered involuntarily from behind Eve's salty gusset.
Eve looked daggers at me. 'Babes, Babes, how dare you, you slit-slurper?' she cried. She stepped off the mattress and took hold of my balls and twisted them causing me to wince and cry out.
'Mistress Eve, Goddess Caprice, for the last time.' She twisted my sacs again to emphasise her point.
Eve returned to the mattress and Caprice raised Eve's skirt allowing me to see her crotch and that her panties were a miniscule lacy white bikini.
They faced one another and continued to caress each other's shoulders and breasts beneath their bras and clutch and caress the other's tight bottom beneath their skirts.
The girls reached to unclip the other's bra and Caprice collected the two garments and flung them towards me, one landed on my shoulder and the strap of the other fell over my steely shaft that left it hanging there.
Uncontrollable fits of weed-induced giggles halted their lezzie show until they had both collected themselves and stopped pointing at my bizarre dress code.
'Doesn't he look silly with your knickers on his head and a bra hanging off his shaft?'
'A silly sissy,' Caprice responded.
Eve bent to tongue her friend's nipple and raised Caprice's skirt and this action presented me with her delectable bare bum cheeks and revealed the gusset of her panties buried in her crack. Caprice craned her head around to see my reaction while Eve dragged the gusset aside and I saw Caprice's moist, swollen, fleshy labia glisten and the sphincter of her tight little puckered bum-hole contract.
Eve began to draw her friend's panties from her hips, a classic strappy white G-string, and pulled them from her feet and threw them at my chest, they hit the root of my shaft on the way down and ended up at my feet.
'Must be frustrating to have Caprice's sodden stinky knickers at your feet, so close and yet so far, what would you do with them in our absence, sissy slut?
'I bet he'd sniff them, lick them, chew on the gusset, wear them over his silly, sissy head, drag them around his tackle, photograph himself wearing them and finally dump his filthy jerk goo alongside my feminine fadge-fudge right in the gusset whilst he grunted and groaned and beseeched me to do those things to him myself,' Caprice replied on my behalf with intuitive accuracy that left me feeling vulnerable that she could read my perverse whims so well.
Eve presented me with her curvaceous botty and the sweaty soles of her socks. Caprice raised her pal's skirt and I saw that Eve's panties were a lacy white tanga style, the waistband of which was collected between her friend's teeth at the hip and dragged over Eve's buttocks. Eve craned her neck to look my way and I watched her tanga panties assume the form of a tight figure of eight as they rolled down her legs and escaped her feet.
Caprice sized up her shot like a quoits player and sent these coiled aerodynamic knickers spinning a yard through the air and they encircled my stiff peg and hung there with the bra causing the girls to hoot with laughter again.
'Naughty sissy, don't you know you should match your bra and panties,' Caprice joked and the two women dissolved into a fit of uncontrollable giggles again.
'Silly and pathetic, what are you?' Eve demanded.
'Pretty-please, Mistress Eve. I look silly and pathetic just like you say.'
The sexy lezzies nibbled each other's nipples and Eve moved to sit at my feet and when she leaned over towards her mate her moist gash and tight pigmented little bum-hole faced me.
The elastic waistbands of their tennis skirts clung above their hips and revealed their lovely bottoms. Caprice arranged herself bum first towards me and they both kept an eye on me as Eve began to gently spank her mate's botty.
Caprice shifted to face me and spread her legs wide and revealed her lovely shaven gash, Eve stood above her facing away from me and planted her glistening labia onto Caprice's eager tongue. Eve's head turned to assess my state and her titties hung down from her chest, firm delectable udders. Caprice lapped at Eve's pussy and caressed Eve's bum-cheeks, a finger of her other hand was a blur Kartal Escort Bayan as she rubbed above her fanny in a frenzied circular fashion.
The women began to bleat and moan. Eve moved back down to the floor at my feet and Caprice brought herself to the edge of the mattress and leaned toward me and pulled at the knickers around my shaft. That and the sight of her little titties, shaped like the points of artillery shells, that hung in front of me caused my cock to bob about rhythmically and when I looked down my cock-eye supported a bead of pre-cum about to run away.
'Look Eve, his shaft is bopping with the beats.'
The women giggled and Caprice splayed her legs again, it was her turn to have her gash munched. Eve took to the floor and nibbled Caprice's puss and diddled her clit. Caprice's contorted face was such a turn-on and no less was Eve's action when she turned toward me and noted the pre-cum in my piss-eye. She gathered it with a fingertip and fed it to Caprice.
'Yum,' said Caprice between her bleats and moans. She reached again for Eve's panties around my root and tugged them several times more in synchrony with the sounds.
Eve slid her finger to and fro inside her mate's gash and lapped at her clit. Caprice's mouth hung open and her expression was one of bliss, occasionally she bit her lips in her state of abandon.
They shifted again and with bums towards me, their cotton clad toes almost touched my elongated shaft and I forced my groin toward that target hoping to feel their cotton covered digits tickle my tackle. They toyed with each other's pussies and craned their necks to watch me, their mouths almost meeting.
'Oh, no you don't slave-boy,' Eve reproached me and the women withdrew their little cotton toes to frustrate me.
They smiled and reached behind and slapped each other's bum cheeks and patted the other's swollen labia and poked their fingers inside one another.
Their moans intensified in volume and they swapped tongues and alternately chewed the other's nipples before each of them blew me a kiss and they stood before me, neither of them had reached a climax.
Eve rolled another spliff which she shared with me as before and the two girls recovered their undies from my shaft and dressed again into their tennis gear.
'We're off downstairs for a bit of refreshment you pathetic panty-perve, we'll be back later,' Eve told me.
'Pretty-please, Mistress Eve, pretty-please, Goddess Caprice, you aren't going to leave me like this?'
'Of course not,' said Eve.
She dragged her pink panties from my head and poked them into the back of my throat. She took a pair of black nylon tights from her duffel bag and tied them around my mouth and stuffed the salty toes into my mouth.
'Satisfied?' she said and both the women giggled when my muffled reply sounded like a poor imitation of a grazing heifer.
'We wouldn't want you to call for help now would we,' Eve declared. 'We haven't finished with you yet.'
Eve made some photos of me standing there in her ill-fitting tights and overwhelmed cotton socks with my mouth crammed with her stinky stuff. She slung her duffel bag over her shoulder and said,
'See you later masturbator.'
'In a while you pantyphile,' Caprice added spontaneously.
I wanted to protest, weren't they going to lock the door, someone might come in. I repeated several times, lock the door, lock the door but my voice was unintelligible, my eyes widened in horror.
'Can't understand a word, foot-junky, did you catch any of that Caprice?' Caprice shook her head.
'We'd better get going and lock the door, there's a couple of horny babes staying in the next room, they only arrived today, might get the wrong door after a bevvy or two, we'd be pretty pissed off if they stole our midnight munch, now wouldn't we.'
The bitch knew what I was thinking.
The two women left and shut the door and locked it behind them.
***
In the bar Eve and Caprice were filling tumblers from a pitcher and discussing strategy.
'You know a true panty-boy when he'd rather wrap your stinky knickers around his shaft and bring himself off rather than fuck you, you know a foot-boy would rather sleeve their shafts with your sweaty hose and squirt a big mess in the toe tip rather than shag you,' said Eve.
'Or squirt their stuff on your salty stocking soles. I don't mind that kind of safe sex as long as they give me a good diddling one way or the other hopefully with a creamy tit-bit to finish. I love the taste and texture of spunk. Do you think he's filled to the brim then, completely backed up?'
'You thought so yourself but def, he hasn't come since Sunday, he's been in that thing since then. He can hardly be having a wank right now can he? The way we left him.'
'I guess not.'
'You guess not, you think he's a contortionist and giving himself a foot job, or he's a Harry Houdini and is gleefully tugging himself off up there?' Anyway, he knows we're going to empty Escort Kartal his balls for him, even if he is Harry Houdini and sat rolling a spliff he won't be wanking.'
Caprice laughed at the picture Eve had painted in her head and said,
'I hope it's that really thick stuff, I love that globby spunk that some guys have and it may be an old wife's tale but I'm convinced it's good for the skin. I always rub it in and wait some time to shower if I can, let it do its job.'
'That watery stuff doesn't do much for me either, I like it all chunky, clingy and gooey. Mind you, bearing in mind he's been sniffing the stinky stuff I left with him all week I'm sure it's going to be pretty heavily laden with taddies, don't you?'
'Taddies?
'Tadpoles, spermatozoa, the frantic little fertilisers that are the globby stuff amongst the projectile lubricant, that's seminal fluid, the watery stuff, didn't you do biology at school, Love?'
'Rings a bell, actually I got an 'A',' said Caprice. So you think it's a woman's smell that makes the taddies grow?
'I only got a 'B', not sure but I do know if you make them smell your stinky stuff their balls begin to ache and that must be because of pressure building up.'
'I also love it when it shoots halfway across the room, it's amazing how far some guys can fling it,' Caprice continued.
'Flying taddies, that's one for the book. I love that too although I also like it when the thick syrupy stuff just keeps running out the tip and down the shaft as long as it just goes on and on doing that like a chocolate fountain. I don't know which I like to slurp the most, spunk or chocolate, chocolate I suppose. I wonder why sometimes it shoots half a mile and other times just chugs out.'
'Well, I think it's to do with rhythm like you know when you catch a tennis ball just right, it's all in the timing. So when you're jerking or sucking him or kneading his nuts with a rhythm that matches that peristalsis thing going on in the shaft and the throbbing in their balls then the sky's the limit. If you don't match his rhythm it causes it to just chug out, if you tug at him completely out of sync then you ruin him completely don't you.'
'Sounds about right, Love,' Eve answered.
'What I don't get is that it always lands in your eye socket, it's like your eye is a spunk magnet or has its own gravity or something.'
'Don't be silly, Sweety, if his cock head has just popped out your mouth where else can it go,' Eve remarked.
'No, but even if he's rubbing it on your belly or between your titties or you're just sat jerking him off it always ends up smacking you one in the eye, it's pretty much a dead cert,' Caprice protested.
'Next time that happens trying checking yourself out in the mirror. I think you'll find that it's not just landed in your eye. I'm pretty certain you'll see it hanging off your earlobe, highlighting your hair, splattered on your cheeks, half-way up your nostril and dripping from your chin. Don't tell me that if he's rubbing it along your crack on your silky panties it still goes in your eye, give me a break, Love.'
'Well, if you turn your head to watch it does, well it does with me anyway.'
'You can always make him clean it up,' said Eve
Caprice didn't say anything so Eve continued,
'It's what Doms do to humiliate slave-boys. Let's say he wants to shoot his spunk all over your feet, they can be really keen to slurp up their mess cos they got a thing about licking women's feet, they like to worship in that way.'
'I've never done that, must add it to my list.'
Eve said nothing but thought to herself, 'Might happen earlier than you think, Sweety.'
'Did you bring a change of clothes with you like I said,?' Eve enquired.
'Glamorous, stinky stuff, you mean?'
'Yer, the stinky, glam stuff, what have you got?' Eve asked.
'A pair of full-cut, sheer, red, bri-nylon, vintage-style knickers and a red suspender belt, a pair of fully fashioned, RHT nude-toned stockings with twin welts, seams and even that key-hole thing. That Cuban-heel sort, all the additional reinforcement in contrasting red weave and all garments unwashed since I went to London last week. Oh, and a sheer skimpy nude-toned nylon mesh bra, also with red hems and straps with cheeky cherries printed on the cups to cover my little nippies. A pair of arm length red satin gloves as well, although they're pretty clean.'
'Jesus, that should do the trick, can't wait to see you in that stuff myself, how come you've never worn it for me?'
'Well, I bought it in London, I've only had it three days although I never took it off while I was there, never-ending parties, bit stinky in fact,' replied Caprice. 'What about you what are you going to wear?'
'I think I'll go for a classic white and tan look but maybe layer it up a bit,' Eve replied.
'Layer it up? I've never heard of that,' Caprice admitted.
'Some guys love nylon tights, some guys love stockings and suspenders, some guys love knee-his, some guys love anklets, some guys want cotton. I don't know about our bound and gagged Georgie up there, so why not wear a selection of hose, something for every bloke. Then there's the added attraction of inducing greater perspiration and holding in more fragrance and moisture just like these stocking-sniffers crave.'